Adventure 1 partners with 50 races around the world for 2023
On the eve of the Adventure Racing World Cup Final, True West in New Zealand, the Adventure 1 Series (A1) is excited to announce its continued global expansion, partnering with over 50 races in 20 countries across all continents in 2023. To mark the growth of the Adventure 1 Series' international footprint, the A1 website has undergone a major overhaul and now hosts details of all national series, historical results and information to help athletes toe the start line of their next big race.
Teams will compete in their country for a national ranking whilst having the opportunity to race at World Cup events building up to the World Cup Final in New Zealand in 2023. These races are 24 to 48 hours in length, making them highly accessible and cost effective for teams. Events are scheduled on all continents, including the USA, Brazil, Portugal, France, Malaysia, South Africa, and the Czech Republic.
The World Cup Final will be run for the first time this year by one of the most decorated adventure racers of all time, Nathan Fa'avae.
"I'm excited to host the first A1 World Cup Final in New Zealand with my new race True West, a 48-hour non-stop race based on the South Island's West Coast. There is a growing desire for the world's top teams to compete more regularly over this race distance and True West promises to deliver one that is world-class" said Fa'avae.
In addition to the national World Cup Stop events, Adventure 1 is excited to announce the addition of a series of Expedition Racing World Cup races. These include events across North, South and Central America, Asia, Africa, Europe, and Oceania with winners at each scoring a coveted free entry to compete at GODZone, the Expedition Racing World Championship. GODZone is the world's largest and mostly highly viewed adventure race and the pinnacle of the sport with $150,000 in prize money.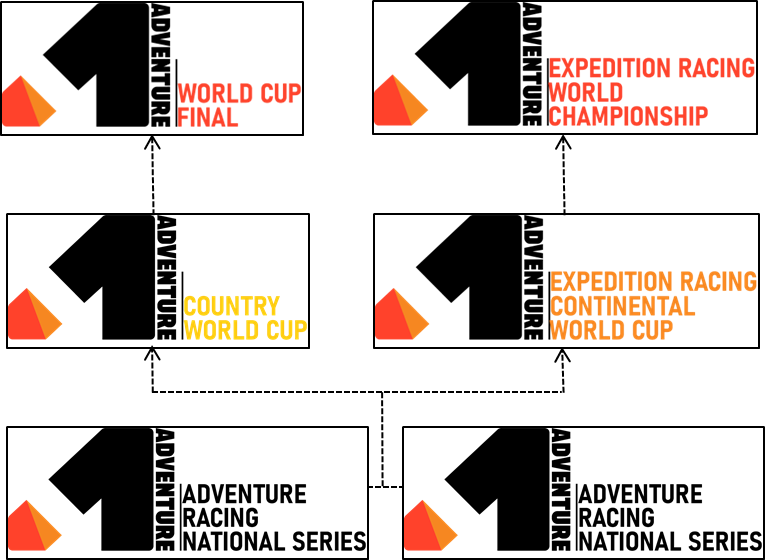 The first Expedition Racing World Cup will be GODZone Australia. Scheduled for antipodean spring, the event is hosted by elite adventure racer Rob Preston, with two decades experience racing and directing premier international events.
"GODZone Australia Chapter One features the best wild and rugged terrain Australia can offer. As an expedition length race, we get to provide a course that traverses many different landscapes, providing racers an unparalleled journey of discovery from start to finish. Chapter One showcases three distinct terrains and includes packrafting, long treks and challenging navigation which competitors will love." said Preston.
Joining GODZone Australia as the Oceania World Cup Stop will be well established and highly regarded expedition races such as the French race Sud Raid in Europe, the Costa Rica Adventure Race in Central America, and exciting announcements for North America and Central Asia. A full list of the World Cup Stop races and Expedition Racing Continental World Cup stop races is available here.
Adventure 1 is the only adventure racing series to be sanctioned and approved by World Obstacle, the Federation Internationale de Sports d'Obstacles (FISO). FISO is a member-based, democratic, not-for-profit organisation run by volunteers to represent the needs of the athletes, its national member federations in 110 countries, and the adventure racing communities worldwide.
"It would have been impossible to imagine the rapid growth of the Adventure 1 Series from its humble beginnings as the Australian National Adventure Racing series when it first began in 2017" said Adventure 1 founder Todd Vickery. "A1 grew to host a national series in South Africa in 2018 and then New Zealand in 2019. After weathering a difficult period for events during the global pandemic, it's phenomenal to see that Adventure 1 will now host races in 20 countries with more being added monthly."

"The growth of the series and the support of FISO is a testament to not only the quality of the races but the grassroots, not-for-profit nature of the series which gives a voice to all stakeholders including athletes, race directors, and their event partners. The structures in place serve the perfect platform to attract sponsors and government funding to the sport. Having the endorsement of events like GODZone and athlete the calibre of Nathan Fa'avae who represent the pinnacle of the sport speaks volumes."
Racing at True West, the Adventure 1 World Cup Final starts Friday 2 December. Stay up to date on this and all the other Adventure 1 races at https://adventure1series.com/subscribe/
About Adventure 1
Adventure 1 is the premier international adventure race producer that supports and promotes local, national, and international athletes, events, and race directors. Adventure 1 started in 2017, setting up the first Australian Adventure Racing Series and quickly expanded to become the premier national series in Australia, New Zealand, and South Africa. Adventure 1 is an approved and sanctioned event coordinator for international events of World Obstacle, the international federation providing representation for adventure, multi-sport, and obstacle athletes worldwide.
About True West
True West is the newest event in Nathan Fa'avae's Ten Events portfolio of adventure races. The location on West Coast of New Zealand's South Island is one of the roughest and most remote places on earth. Teams need to be self-reliant and well equipped to survive the weather that materialises from the Tasman Sea. The Southern Alps climb steeply from wind swept beaches through lush rainforest to alpine tundra, with incredible gorges, white water rivers, glaciers, and snow fields. It is unpopulated, untouched, and untamed.
About GODZone
The organisers of GODZONE have high standards and a simple focus when it comes to delivering an adventure race. The main aim is to produce the best experience for all participants with an event that understands the importance of balancing 'adventure' on one hand and 'racing' on the other. The races of yesteryear were often raw and wild, sometimes lacking in organisational prowess, but no less competitive for that fact. The modern generation of races have become more 'race' focused with physical difficulty and speed being the defining characteristics. We believe it is possible to have the best of both worlds – in short, bring back the adventure, keep the attention to detail and let the competitors have highly competitive fun.
About World Obstacle
World Obstacle, the Fédération Internationale de Sports d'Obstacles (FISO) is the international governing body for obstacle sports and related disciplines, representing the needs of Adventure Racers, Ninja Athletes and Obstacle Course Racers worldwide. It is an independent association composed of national member federations and their athletes in over 120 countries.
Press Contacts: